Medicaid Expansion and Current Medicaid Funding
One of the provisions of the Affordable Care Act allowed states the option to expand Medicaid to cover adults under 138% of the Federal Poverty Level who previously had little or no access to affordable health insurance. From 2014 through 2016, the ACA's Medicaid expansion population was funded 100% with federal dollars. Beginning 2017, states gradually have to pick up some costs, but the federal government still picks up 90% or more of Medicaid expansion through 2020. Medicaid programs that existed before the ACA are funded via a much less generous split between state and federal tax dollars.
What is a Medicaid Block Grant?
Medicaid is currently an entitlement program, which means that everyone who qualifies is guaranteed coverage. States and the federal government combine funds to cover the costs. Conservative Republicans are currently endorsing a change to this funding called "block granting" which is included in the health care bill that recently passed the House of Representatives, the American Health Care Act (AHCA). Instead of an entitlement, states would take control of the program and the federal government would cap what it spends on it each year. AHCA supporters claim it will save the federal government money and give states more control. It would be a drastic change to the current system and the Congressional Budget Office projections are that at least 14 million people would lose affordable coverage.
Who would lose coverage? how? why?
Working poor people who gained Medicaid under the ACA
14 million working poor people gained coverage under the ACA's Medicaid expansion program. In Washtenaw County, over 17,000 people gained coverage. The AHCA would freeze funding for Medicaid by the year 2020, effectively ending Medicaid expansion. The AHCA would keep paying for people who signed up before January 1, 2020, but would not cover people who signed up after that date. Many low-income people cycle on and off Medicaid as their employment changes seasonally, moves from part-time to full-time or as the economy fluctuates. Once coverage ends, they would not be able to re-enroll.
Seniors, disabled people, and others who qualified for Medicaid before the ACA
The AHCA would adopt a policy known as a "per capita cap" for Medicaid that would hurt all beneficiaries. Currently the federal government matches state spending on Medicaid for everyone, not just those who get Medicaid under the Medicaid expansion. In 2020, the AHCA would give each state a set amount of money per person and it would increase based on inflation, but it is not expected to keep up with medical costs. Consider the different costs to cover a 24-year-old, a 65-year-old and an 87-year-old. What would happen to the disabled, who need more coverage? The federal government requires that certain populations are covered by Medicaid, but states would have to decide who would be covered with less money for Medicaid. States could spend less on Medicaid by removing either particular populations or certain types of benefits.
Pregnant Women and New Mothers
Under the AHCA, states could apply for waivers that would allow them to not cover the 10 Essential Health Benefits covered under the ACA. Prior to the ACA, 88 percent of independent market plans did not cover maternity care. Read more here: Essential Health Benefits Under the AHCA (ACA Replacement).
States hit hard by the opiate crisis
The opioid epidemic has many more patients needing substance use disorder treatment. A per capita cap would cause problems if an epidemic hit or if new, expensive medications became available. Medicaid programs are currently covering many people receiving treatment for substance use disorder. If Medicaid funds were capped any advances or new outbreaks would financially burden the state.
People in states that take a Medicaid "block grant"
A full "block grant" would mean that states receive a fixed amount of money for Medicaid over a 10 year period, only increasing with the normal inflation rate. There are no provisions to increase funds based on increased state population or economic recessions. States could cut benefits or change eligibility requirements and many people would lose coverage.
"Block grants" would encourage more states to "innovate" alternatives to current Medicaid coverage. Michigan's current MIHealth Account requires all Healthy Michigan Plan participants to pay into a health account as a way of collecting co-pays for many services. The amount is determined by prior usage of services and participants are sent payment coupons quarterly. Participants do not lose coverage for not paying, but delinquent payments can be recouped from state tax refunds. Indiana also has a waiver that requires participants to contribute before their coverage starts. If they don't pay the premium they are locked out of Medicaid coverage for 6 months.
People with Pre-existing Conditions
Under the MacArthur Amendment added to the bill in late April 2017, states would also be allowed to waive an ACA provision that bans insurers from charging higher premiums to sicker people. We would return to the pre-ACA world of people with pre-existing conditions being charged much more for insurance. Here is an estimate from Sam Berger and Emily Gee using data from CMS, the Center for Medicare and Medicaid Services.
Families with Chronic Conditions
Because of the Essential Health Benefit waiver, states could also choose to eliminate "lifetime limits," which let insurers decide how much they would spend on one person. Before the ACA, most caps were between $1 million and $2 million. These types of caps dramatically affect families with very ill children. Prior to the ACA, families went bankrupt trying to get healthcare for their children.
Low-income Americans not on Medicaid
The ACA offered tax credits based on income for people to purchase insurance on the Health Insurance Marketplace (healthcare.gov). Under the AHCA, tax credits are much lower for many people because they are based on age, and not on income. In addition, there would be no cost-sharing. Under the ACA, people who are lower-income have cost-sharing--much lower deductibles and lower maximum out-of-pocket costs. Under the AHCA, those cost-sharing supports are eliminated.
Older People on the Health Insurance Exchanges
Older people would receive a bigger tax credit but the increase would not cover for the fact that they could be charged up to five times more than younger people.
Children in Special Education Programs
Under per capita caps and block grants, Medicaid funded school programs for students with disabilities could be reduced or cut completely. Because special education requirements are mandated, schools would need to pay for special education out of general funds.
Planned Parenthood Patients
The AHCA includes provisions banning federal dollars from going to groups like Planned Parenthood. So even though the majority of Planned Parenthood services are birth control, pregnancy and STD tests, as well as cancer screenings such as breast exams and Pap smears, the AHCA will deny women access to these services. Planned Parenthood is the largest provider of reproductive health services in the country. In fact, in many places across the country, Planned Parenthood is the only birth control clinic. Without Medicaid funding (which does not pay for abortions), these clinics will be forced to close, denying millions of women access to health care.
Almost Everyone Loses
Many provisions in this bill will make it easier for insurers to charge more for premiums, require more cost-sharing and shift costs to the consumer. High income (over $250,000/year) people win and everyone else loses.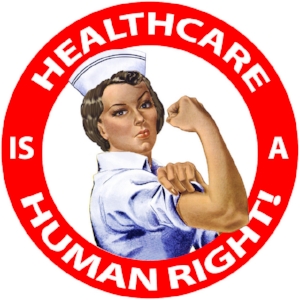 The Washtenaw Health Plan
believes that healthcare is a human right. The Washtenaw Health Plan board is on record opposing repeal and weakening of the Affordable Care Act.